The team
VERONIQUE GUERIN

It was my joint passion for forum theatre and psychology that moved me to set up Etincelle in 1999. I love to play out conflict situations and have always wondered at the intellectual rationale of those who, through their work on stage, are able to resolve differences.
As a working psycosociologist, I have been able to make use of the situations I come across in my work to widen the concept of personal development, to write articles and other works on the subject of authority and group and individual dynamic change. I love the diversity of our team; a real mini laboratory where we can put in place all that we try to give out: a collective energy for change and a real challenge.
FLAVIEN LAFOSSE
I have been a social facilitator for 10 years working with people who have social difficulties particularly in the field of parenting skills.Trained in theatre and improvisation skills, I first learnt of forum theatre and Etincelle 6 years ago.
I take great pleasure in playing the "baddies" as well as developing solutions to new problems, adapting work for the stage and to be involved in performances. I enjoy training workshops on conflict management and group dynamics.I have been president of the group for the last two years during which I have strived to develop international exchanges to enhance problem solving and openness.


ANNA NATURANI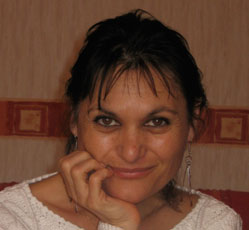 It was my organisational skills that led me to work with Etincelle. Reception, billing, contracts expenses; that's my bag !
I also have the pleasure of preparing the team dinners. They tell me they have great pleasure in eating them !
I also enjoy playing in the theatre forum and am interested in all methods of developing self confidence and interpersonal skills. I am currently writing a piece on my own life and perceptions of disability. I myself am disabled. Wow, what a ride!
CATHY LUMALE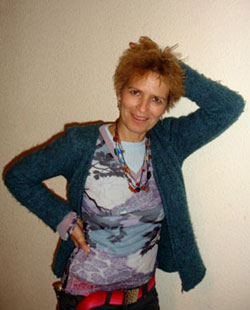 For over 15 years I have led theatre workshops for both adults and children where I like to develop self expression as well as group and individual creativity.
I particularly enjoy working with people with psychological or social problems for whom theatre is a perfectly adapted approach.Over the past few years I have become involved in forum theatre where I develop scenarios, act and train others who wish to become involved.
PHILIPPE LUSTEMBERGER
I have been a communications teacher for more than 16 years.In Alsace, whilst developing theatre skills as a teaching tool, I came across forum theatre and was duly impressed by its values and potential as a teaching tool.
When I arrived in Montpellier 11 years ago, I met Véronique Guérin and joined Etincelle.This reinforced my desire to use and make known this learning tool by creating scenarios and playing in forum theatre with an increasingly diverse public.I also like putting my shoulder to the wheel and contributing to aspects of relationship development.
VIRGINIE HART

As a relationship development trainer, I like to draw on theatre skills and techniques to enhance and enliven training sessions, sessions that bring together mind, body emotions and reflection in order to develop cooperation.

Trained in conflict management, forum theatre, communication skills, Erickson hypnosis and gestalt therapy, I work mainly with adults and teenagers.  As an improv-actress my ideal role is that of the petulant child, the rebellious teenager, the infuriating mother, the depressed teacher, the intransient manager etc. etc. and I am constantly working to expand my repertoire!!
PASCAL MENUT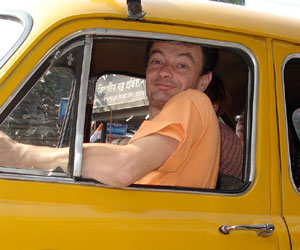 As an actor, mime artist and director, I enjoy leading workshops for both children and adults as well as body awareness courses using theatre techniques. For me body image awareness is one of the primary elements in the development of interpersonal skills and is fundamental to the art of the actor.  The act of dressing the character, bringing him to life with compassion even when the public hates him. I love to share and develop this experience with everyone who is interested.
CHRISTINE CASSET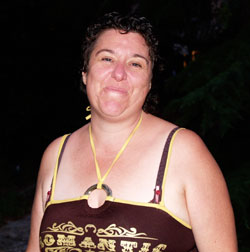 Having trained in listening skills and personal support tutoring, my strength is in helping people discover their own personal skills and resources.

I have a joy of discovery and love exploring new ways to tackle social problems.  I regularly work with young adults on producing collaborative projects on a national and international level particularly in West Africa.


NATHALIE CORLAY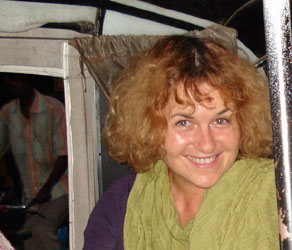 I originally trained as a nurse and have been involved in forum theatre as well as circus comedy for over ten years.  Four years ago I decided to bring together my love of theatre and my work by using comedy and forum theatre to develop self esteem in young people, people in social difficulty and those with disabilities.

I find being a social actor a challenge that fulfils my love of human contact and the sharing of experiences.

ALEX GRACI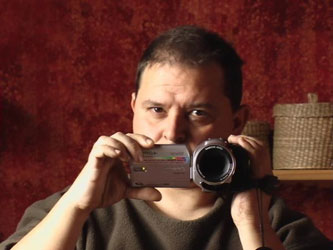 As a trainer for social actors, I have worked in France for over ten years.
I created the D'Clic Theatre Action group who now work in partnership with Etincelle.  I am an actor and produce training videos for Etincelle.
I have worked as part of the team filming in Senegal (despite my fear of big spiders) and no doubt will be there for the next big adventure!
ELISABETH LOUBAT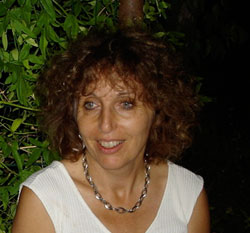 I have been involved in amateur dramatics for more than 20 years and discovered forum theatre in Mali.  It was the powerful educational value of forum theatre that first inspired my enthusiasm in this field.  I looked for a group in France who used this non judgmental methodology in their work with the public.

Etincelle fitted my criteria perfectly and I have greatly developed my own interpersonal skills through games and discussion with the team.
I am always up for an adventure especially thrashing out new ideas either in France or elsewhere in the world.

MANU GUYOT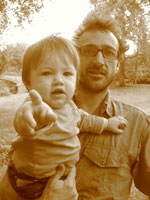 I am an environnementalist as I am fascinated by nature and I am an environmental trainer from, the desire to share this passion.  I enjoy travelling and taking the time to step back and see things from a new perspective.  I have recently become a father and this momentous event had led me to question the future we are leaving for our children at a deeper level.

I enjoy theatre due to its power in giving me a greater understanding of myself and others and as a means to explore and debate alternatives to the issues currently facing our society.

AGNES VINCENT
I am a Jungian psychoanalyst and trainer and I first encountered Etincelle through their work on folk tales before getting involved with forum theatre myself.  It is the power and imagination of the medium that I really enjoy.  I work with women who are suffering from psychological and social difficulties for whom the theatre can open many doors.
Allowing the inner consciousness to speak and to seek to understand its message through dream analysis, giving space to the spectator-actor on the stage in order to find solutions that can help transform society and ourselves are two ways we can truly listen to what life is telling us.
Etincelle is for me a story of friendship, of meeting others and it is my story.  A story to be continued.


MANU LEVARD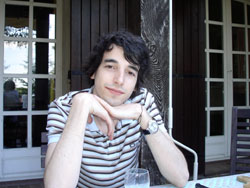 I was just 15 when I played my first forum theatre role. I was the rebellious, manipulative and violent teenager.  Since being bitten by the bug, I use every opportunity to develop scenarios, get into the character of my role and improvising with the public.  What a joy!

Currently a student at business school, my other passion is developing scenarios of the problems facing our society, facilitating debates and collective intelligence.

YOLAINE DE BRICHAMBAUT
For over 10 years I have been working in the field of channelling violence into constructive conflict management using interpersonal skills and an improved understanding of oneself and of others.

I was trained in conflict management, non violent communication, educative and family mediation, cooperative games and forum theatre.

Based in Toulouse, I train and work with groups and individuals who wish to develop their own interpersonal skills.